Written by admin Posted on May 03, 2022 Commented by
0
Lindsay is joined by Netflix's own, Bobby Berk! She gets the Lohdown on what goes on behind the scenes on Queer Eye, the time he met Jewel and didn't even know it, and some tips and tricks for designing on a budget. Strap in, this is going to be a fun one!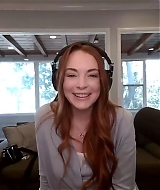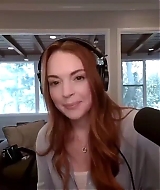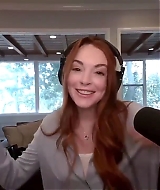 Gallery Links:
– Home > Screencaptures > The Lohdown Podcast > 1X01: BOBBY BERK'S TRAVEL STORIES & RENOVATION SECRETS
Written by admin Posted on Apr 23, 2022 Commented by
0
Lindsay Lohan is not only getting back into filming new movies, but she recently announced that she is ready to sound off with her brand-new podcast The Lohdown!
Written by admin Posted on Mar 27, 2022 Commented by
0
Hollywood star Lindsay Lohan has lost a third member of her family in five months, Radar has confirmed.
The famous Lohan clan was shocked by the sudden death of the brother of Lindsay's mom, Dina, who revealed the news on Facebook.
"It is with a heavy heart for me to say that my brother has passed on," Dina, freshly released from a stint in jail, revealed.
"For all who loved and knew him, you know what a huge heart and pure soul he had. "This sudden loss for my family is unbearable but we know he is free of pain now and with our parents and loved ones who have passed before him."
She went on to give thanks to her friends and family for their "prayers" before concluding her message: "Please remember to hug your loved ones and be kind to all." This is the third death blow to Lindsay, 35, who lost both her grandmothers during a span of three months.
In January, Lindsay's maternal grandma, Ann Sullivan, passed away at the age of 98. She had just celebrated her birthday on Jan. 11. Previously, Marilyn, who is mom to Lindsay's dad, Michael Lohan, passed away last October after suffering a fall during the night. She was not found until the next morning by Lindsay's aunt.
Lindsay had been living in Dubai but moved back to the United States at the end of last year after accepting the starring role in a Netflix romantic-comedy, which is scheduled to be released later this year.
The sad family news comes as Lindsay's career is on an upswing. She not only finished the rom-com for Netflix but signed a 2-picture deal with the streamer. She also starred in a Super Bowl commercial for Planet Fitness.
She even has a film with Mickey Rouke scheduled for release this year.
Written by admin Posted on Mar 14, 2022 Commented by
0
Back in 2007, Lindsay had starred in a movie called Chapter 27 about the shooting of John Lennon.
In this dramatization, mentally disturbed Mark David Chapman (Jared Leto) arrives in 1980 New York City to stalk his idol, John Lennon (Mark Lindsay Chapman). Standing outside Lennon's apartment building every day, Chapman encounters fan Jude Hanson (Lindsay Lohan) and photographer Paul Goresh (Judah Friedlander), as well as the famous musician's son, Sean (Yuuki Hosokawa). While waiting for an autograph, Chapman grows increasingly unbalanced, leading to his infamous assassination of Lennon.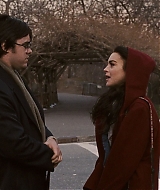 Gallery Links:
– Home > Filmography > Chapter 27 > Movie Screencaptures
Written by admin Posted on Mar 04, 2022 Commented by
0
Engagement bliss! Nearly four months after Bader Shammas proposed to Lindsay Lohan, the pair have "started" wedding planning.
"They aren't in a rush to get married," a source exclusively reveals in the new issue of Us Weekly, noting that the pair have started "thinking" about what they want. "The talk is [there'll] be two weddings — one overseas and one in the States, maybe some place in between Dubai and the U.S. There's no timeframe just yet."
The insider adds, "It's going to be intimate. You don't see her out and about anymore. Lindsay really likes her privacy."
The Parent Trap actress, 35, and the businessman announced their engagement in November 2021.
"My love. My life. My family. My future. @bader.shammas #love 💍," Lohan captioned an Instagram gallery at the time, showing off her giant Harry Winston ring.
The pair, who were first linked in 2019, have kept their relationship relatively low-key though her loved ones approve of the union.
"Everyone loves [Bader]," the source tells Us. "He's such a great guy. They don't go out a lot, she is always cooking. Lindsay has become very humble, domesticated and centered."
The Freaky Friday actress' mother, Dina Lohan, previously gushed about her daughter's relationship to Us.
"Lindsay is dating a wonderful guy right now," the Celebrity Big Brother alum, 59, exclusively told Us in April 2020, noting that she was in "no rush" for Lindsay to settle down. "But that's neither here nor there. When she's ready to talk about her personal life, [she will]."
The "Rumors" songstress — who was previously engaged to Egor Tarabasov before their 2016 split — relocated to Dubai in 2014 after her acting success, where she presumably connected with Shammas.
"I felt so relieved when I moved everything over from London to Dubai and I saw everything in one place," Lindsay recalled to W magazine in February 2018 about her new residence. "Now I don't have to open suitcases and live out of hotels and bags. Everything is where it should be. It's a cleansing of your head, which is what I needed, and it took me a while to do it. … I would love to own a place in New York, and that's something I will look into in the future, but right now I'm okay with where I live."
She added: "There's a certain calmness that I find there [in Dubai]. There's no paparazzi, no cameras; that's a big deal for me. I never considered people taking a picture 'bothering' me, but I don't want people to misinterpret who I am as a person if they see me sneezing and they say I'm crying. I do really appreciate having the life where I can just go outside and not have to worry."
For more on the pair's wedding plans, watch the video above and pick up the latest issue of Us Weekly, on newsstands now.
Written by admin Posted on Mar 04, 2022 Commented by
0
Lindsay Lohan (Mean Girls, Freaky Friday) is expanding on her relationship with Netflix, with a deal for two more original films in which she'll star, the streamer announced today.
Lohan's deal comes following her attachment to Falling for Christmas, a holiday rom-com that is slated to debut on Netflix later this year. In it, she plays a newly engaged, spoiled hotel heiress who gets into a skiing accident, suffers from total amnesia and finds herself in the care of a handsome, blue-collar lodge owner (Chord Overstreet) and his precocious daughter in the days leading up to Christmas.
Netflix previously released the series Sick Note, in which Lohan featured, in concert with Sky One, and is also currently home to Scary Movie V, in which she co-starred.
"We're so happy with our collaboration with Lindsay to date, and we're thrilled to continue our partnership with her," said Netflix's Director of Independent Film, Christina Rogers. "We look forward to bringing more of her films to our members around the world."
Lohan is a Critics' Choice and SAG Award nominee also known for turns in films including Machete, Bobby, A Prairie Home Companion, Herbie Fully Loaded, Mean Girls, Confessions of a Teenage Drama Queen, Freaky Friday and The Parent Trap. The actress has also featured in such series as 2 Broke Girls, Eastbound & Down, Anger Management, Glee, Ugly Betty and That '70s Show, and exec produced and starred in the reality series Lindsay Lohan's Beach Club for MTV.
She is represented by APA and Brecheen Feldman Breimer Silver & Thompson.