Lohan Is the Happiest She's Ever Been
---
Lindsay Lohan has red hair, and freckles everywhere, including on her irises, where they collect like sunspots on a molten green background. The ones on her face, though, are disappearing by the second: Her makeup artist, the freckle-less Kristofer Buckle, is applying liquid foundation to her cheeks. Lohan's mother sits a few inches away, offering an occasional anecdote from The Real Housewives or a makeup tip, like maybe add a little highlighter along the jawline, make the chin really pop?
In brief, Lohan is a 36-year-old actor who has been working for the vast majority of her life. In truth, that does not even begin to describe her. Beholding Lindsay Lohan inspires a range of reactions that may depend on the beholder's birth year. To broad swathes of the millennial population, who met an 11-year-old Lohan in Nancy Meyers's The Parent Trap and watched her in subsequent Disney vehicles, she is a childhood best friend who lives behind a screen. We may have lost touch, but we are always happy to see her. To those who worship the media sensations of the 2000s, she is more like a deity, one-third of a kind of unholy trinity with Paris Hilton and Britney Spears.
And maybe that's why, to generations who were more attuned to Lohan's tabloid lore than they were to her onscreen performances, she inspires less than reverence. They will never understand: That's our girl. Always has been, forever will be.
It may please every age demographic to know that by all accounts, including her own, Lindsay Lohan is the happiest she has ever been. And at some point in the near future, that happiness is scheduled to be eclipsed by an even more profound happiness: Lindsay Lohan is pregnant.
She bounces around the set of this photo shoot, littering the studio with smiles. The sunlight pouring across the studio floor threatens a comparison to Lohan's own radiance. Lohan was surprised and delighted to disembark in New York with a fresh baby bump. "I popped!" she says. "She popped!" Everybody keeps saying so. And it is true: Even swaddled in a white robe, the bump has presence.
It will be a short stay in New York, but not as short as it could have been. Lohan has been filming for a secret (to me) project, plus this cover shoot, and then planned to skip town. Instead, though, she tacks on an extra weekend to spend time with her family. The Lohans are New Yorkers. There is dinner at The Waverly Inn one night, and a baby shower the next morning, attended by family and friends. Tracey Cunningham, the colorist, is there — Lohan is a natural redhead, but Cunningham has been toning and shading, occasionally blackening and bleaching, the star's hair for well over a decade.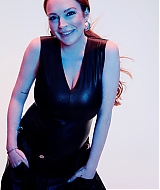 From time to time, Lohan has taken her hair into her own hands, as she did while filming Confessions of a Teenage Drama Queen, at age 17. She thought her character would look cooler with lighter hair, so she painted on strips of bleach and let them fry. She briefly alters time and space to reflect on her teenage drama-queen self. "If I wasn't in movies and known by people and famous or anything and I was at school, I would've been doing the same thing," she says of her experiments with hair.
Lohan attended public school on her native Long Island, taking breaks to film projects, but switched to homeschooling in 11th grade due, in part, to relentless bullying. A year or so later, she starred in Mean Girls, where her character is transplanted from homeschool to high school. That film made almost as much money as two Parent Traps, and it announced to the public that Lindsay Lohan was no longer a child star, but a movie star.
What happened after that is… maybe not worth getting too much into. Lohan's career and her personal life between adolescence and young adulthood were the subjects of saturated media coverage in the 2000s. I don't need to explain further because you already know that the facts of and gossip about Lohan's biography are essentially American history. There were some DUIs and rehab stays. And if Lohan were interested in discussing the past, there might be an opportunity to explore some recent reflections on how the American media has treated young stars as they publicly navigate perfect storms of success, money, stress, and attention.
"I spoke to Jamie Lee Curtis recently and she was like, 'You just bring the baby with you and everything will be fine.'"
But she is not, so we don't. Instead, our conversations focus on the present moment, which Lohan seems to inhabit blissfully. Her latest roles are of her own design, including a rom-com deal with Netflix: last year's Falling for Christmas and this year's Irish Wish. "The Lindsay Lohan-aissance is coming!" Netflix proclaimed in a headline. And those are just the non-secret (to me) projects.
Then there is the mother of all projects, set to debut very soon. In the hopes of attaining a geometrically perfect work-life balance, Lohan plans to rely on an extensive network of working mothers for advice. "I spoke to Jamie Lee Curtis recently," she says, "and she was like, 'You just bring the baby with you and everything will be fine.'" Curtis and Lohan are in discussions about a sequel to 2003's Freaky Friday, Lohan's highest-grossing film. It seems, then, the Lindsay Lohan-aissance is not on its way at all — it has already arrived.
It's possible, even likely, that at some point in the past decade you wondered in the silence of your heart, Where is Lindsay Lohan? The answer, for about eight years now, is Dubai — and it will continue to be for some time.
The largest of the United Arab Emirates by population, Dubai can be a wonderful place to live if you are internationally famous, lavishly financed, and able to tolerate the infernal climate. Its formidable privacy laws render the paparazzi illegal. (It can be a much less wonderful place to live if you happen to belong to many other demographic groups.) "I guess you would say it happened organically," Lohan says of her move to Dubai.
In 2014, at 27, Lohan became an American expatriate. She left Los Angeles and moved to London. "I needed to grow up, and London is a better place for me to do that than anywhere else," she told The Guardian. The move allowed her to do things like visit Monaco for a weekend, but it also offered her a more rarefied version of life — one in which she could go for a jog amid the morning calm without being photographed.
After leaving the United States, press chatter about Lohan got significantly quieter. Every once in a while, a clip of Lohan living her best unexamined life would surface, and we the people would delight in seeing our old friend.
A little while later, she was in Mykonos, being the proprietor of a beachside club and the star of a reality TV show about the proprietorship of a beachside club. "I had always been going to clubs when I was younger, and I was past that point. But I was like, 'Well, why can't we make one?' I mean, what's better than that?"
I am constitutionally unable to avoid bringing up the video that somebody took of Lohan grooving at her club, throwing her hair, as a DJ yelled, "This is how you throw a party at Mykonos, bitch!"
"It was so embarrassing!" she says. "I was having fun, it was Pride. I was just feeling it."
About a year after moving to London, Lohan visited Dubai, decided she liked Dubai better, moved to Dubai, and has remained there since. She lives west of downtown's glass spires, in a villa by the beach. Every morning brings tea, yogurt, a smoothie, and a workout. "Sometimes, I call it The Truman Show, because it's the same thing every day," she says, fizzing into laughter. "But I love it. I really love structure because I don't think I had that when I was young. Everything was coming so fast and I had so many things happening. My only structure was filming and being on set."
"Dubai gives me that space to have my own vision of what I need to do next."
The evenings are when Lohan takes her meetings. At four o'clock in the impossibly hot Dubai afternoon, New York is still cleaning sleep from its eyes, and Los Angeles has barely begun to stir. Most of her work can be performed via Zoom meetings, including for her forthcoming lines of nursery products (in partnership with Nestig) and baby clothes (with her friends at Lavish Alice), or perhaps with a magazine profile writer.
Another thing she would love to do, and may in fact be one of the most qualified professionals on the planet to do, is produce more romantic comedies. "I know that arena so well," she says. "I've dreamed of working with Scorsese and del Toro, but I'm not going to try and exec-produce their movies. I'm not going to be like, 'Oh, I want to do a Marvel.'"
Lohan considers the possibilities: "Do I want to build my own brand? Do I want to relaunch a new production company? All of these kinds of things I can take time to think about." Dubai, she says, "gives me that space to have my own vision of what I need to do next."
But New York is still Lohan's hometown and on return trips she evinces the common millennial phobia of running into people you know, multiplied by an emotionally bewildering degree of international fame. Yet the placidity of Dubai can be unnerving too. "In New York, I'm walking on the street and I hear the sound of a click, and I think, Was that paparazzi? To never have to worry about that in a place where I live is a startling feeling, in a way."
Lohan met her husband, financier Bader Shammas, at a Dubai restaurant on a Monday night — she was with friends, he was with colleagues. They chatted briefly. "I said, 'You look like someone I know.' He was like, 'No, I don't, who?'" The two spoke for hours that night. "And then I said to him, 'I feel like you're the person I'm going to be with forever.' I'd never been able to talk to someone like this."
"I can't wait to see what the feeling is and what it's like to just be a mom."
He proposed while they were in Utah, during the filming of Falling for Christmas. Because Lohan's character also gets engaged — she is proposed to on a mountaintop before she falls (for Christmas) down the face of it and loses her memory — she was granted the irresistible opportunity to channel the raw emotions of her personal life into her craft. It was a perfect day.
The two married in a private ceremony in April 2022, in an undisclosed location, somewhere on the Earth's surface. Emphasis on private: The greater news media didn't find out until July and only after Lohan called Shammas her husband in an Instagram post, which prompted Page Six to confirm the news with her publicist. Later that year, Lohan was in New York again, doing press for Falling for Christmas. She was with her mother the day she was to return to Dubai when she noticed something was different. She told her mom, "I think I might be pregnant."
In Dubai, she took a test, and the positive result appeared almost instantly. She walked into the next room and announced the news to her husband. "It was so unexciting," she remembers, relaying the anecdote through giggles. "I walked into the room, I threw the test down. I was like, 'Guess what?' He goes, 'We are?'" They were, about five and a half weeks.
"I can't wait to see what the feeling is and what it's like to just be a mom," Lohan says over Zoom. She has always felt maternal, especially toward her siblings, of which she is the eldest. But she knows, in ways unknowable, that what lies ahead is unlike any feeling she has experienced. She's been crying lately, moved to tears by simple gestures, or a baby shower. "Happy tears. That's just who I am," she says. "Though now, it's probably baby emotion."
"It's overwhelming," she says, and then quickly adds, "in a good way."